When the Old Meets the New
Historic buildings are an essential part of a city's legacy. However, as modern metropolises expand in order to accommodate more residents, newer architectures begin to emerge, and cities look for unique ways to successfully blend these old and new structural designs. We've rounded up a number of projects that have created a seamless marriage between old and new, with some strikingly innovative results.
1. Royal Ontario Museum, Toronto, Canada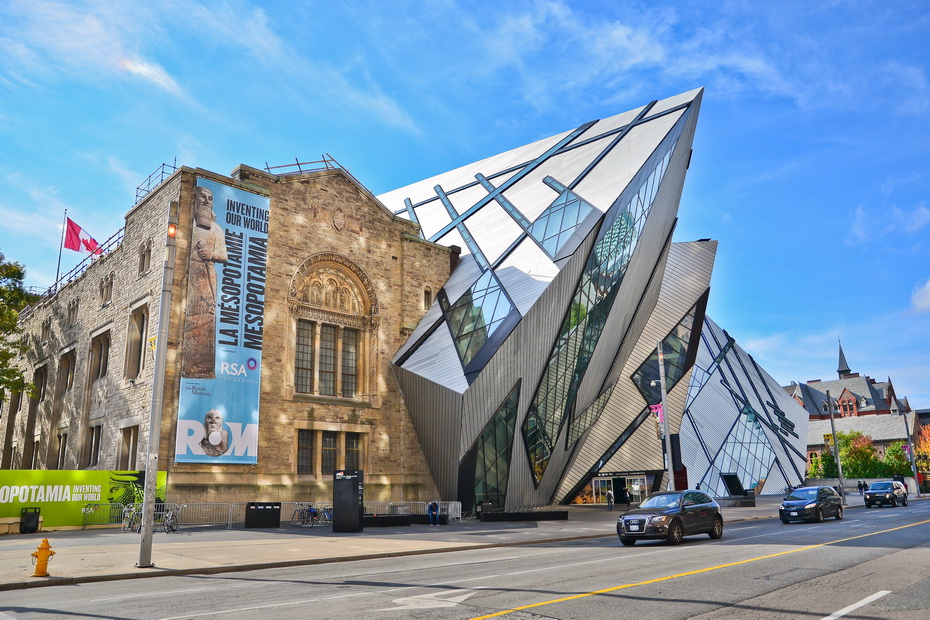 The extension of the Royal Ontario Museum in Toronto is truly an architectural marvel. A gift from Japanese investor and philanthropist Michael Lee-Chin, the extension was named the Michael Lee-Chin Crystal and designed by Polish-American architect Daniel Libeskind. Its inspiration was the Museum's very own philosophy of building bridges and appreciation for the world's diverse cultures and natural environments. The unique design of this bold piece of modern architecture intensifies the profound relationship between tradition and innovation, and turns the museum into an amalgamation of historical buildings and forward-looking architecture, reminiscent of the city of Toronto itself.
2. Dancing House, Prague, Czech Republic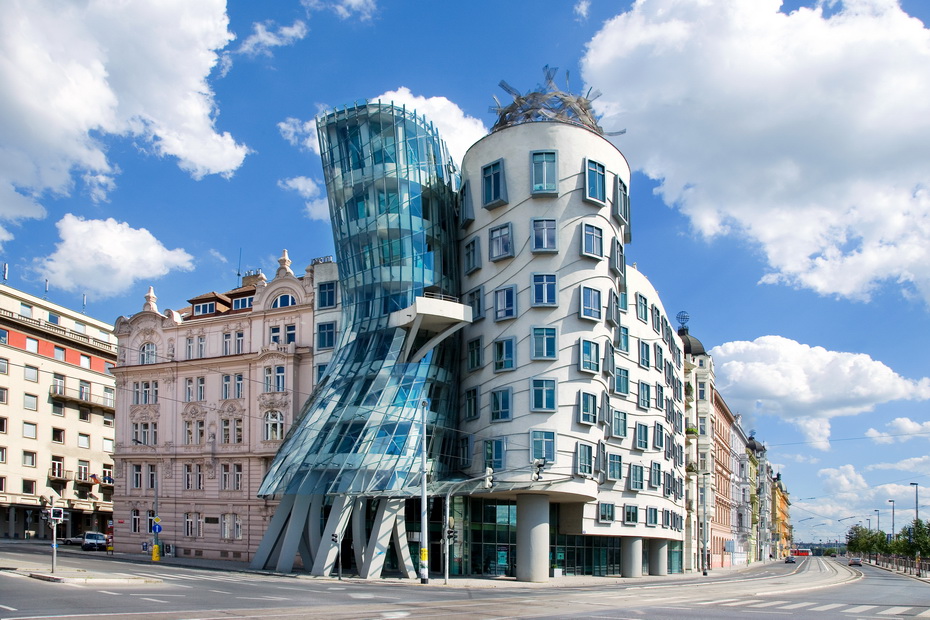 The Dancing House, or 'Fred and Ginger,' as it has been fondly nicknamed, after the dance duo Fred Astaire and Ginger Rogers, houses the Nationale-Nederlanden building in Prague. The building which previously stood in that spot had been destroyed in the Second World War, and the Czech government wanted to create a new cultural center in its place, one which would epitomize the city's liveliness and hope. Renowned postmodernist architect Frank Gehry teamed up with Croatian-Czech architect Vlado Milunić to create what is now lauded as the most important piece of postmodern architecture. And though many feared that the distinctly contemporary building would look out of place in its historical environment, it has actually created a concordant whole; a female yin, as it were, balancing the male yang.
3. Louvre Museum, Paris, France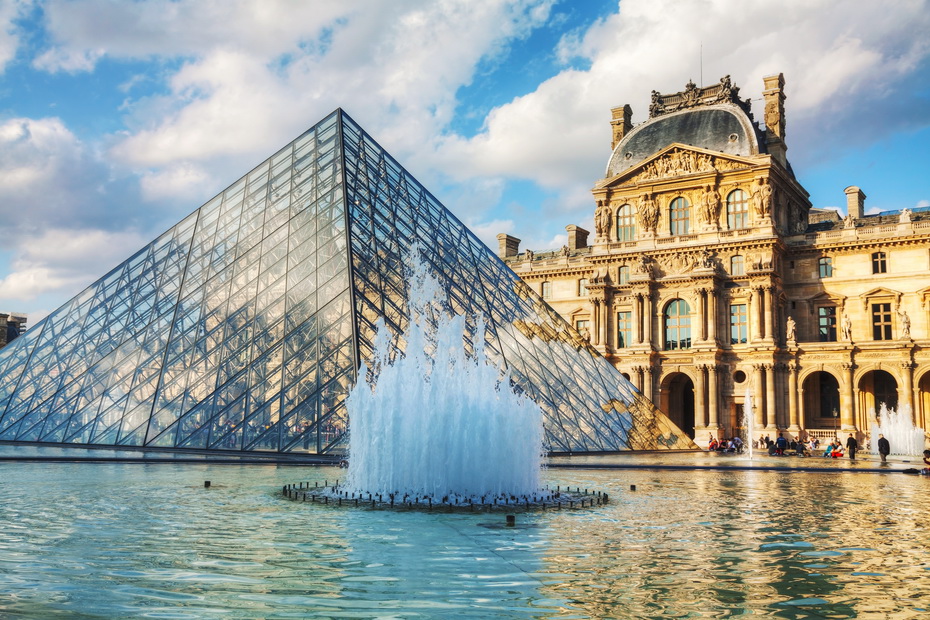 The now-famous Louvre Pyramid is an iconic example of a new addition to an existing historic building that was initially met with skepticism. Critics went as far as to describe it as sacrilegious, but two decades on, it has been established as a masterpiece that brings life and relevance to an old museum. Architect I.M. Pei designed the contemporary structure in such a way that it does not interfere with the interior exhibits of historical artworks, but rather provides a sense of balance to the entire building instead. Since the unveiling of the Louvre Pyramid in 1988, and the Inverted Pyramid in 1993, attendance at the Louvre has doubled.
4. 30 St Mary Axe, London, UK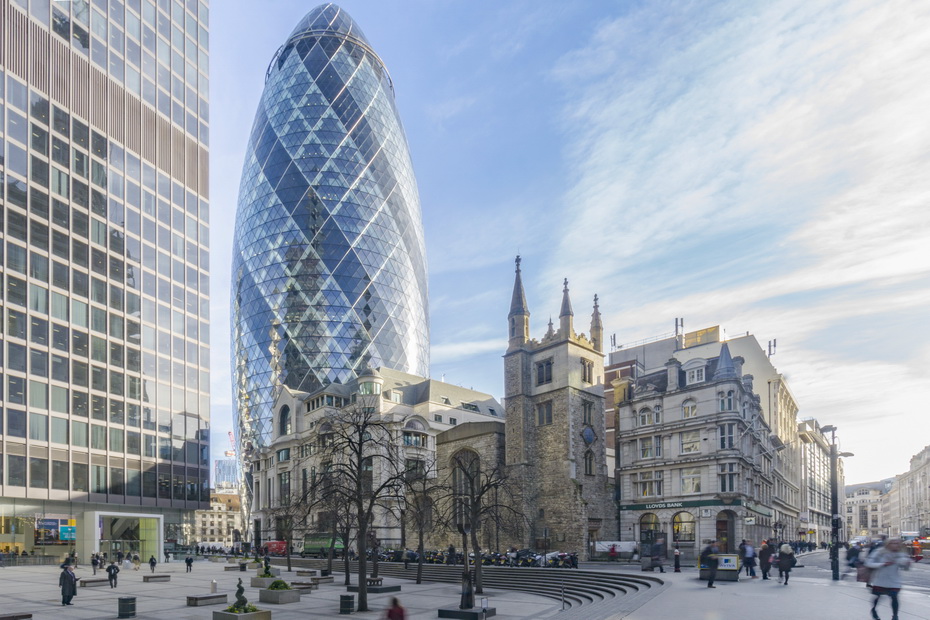 30 St Mary Axe is one of London's most eye-catching modern buildings, one of several built in a historic area of London. The 41-story skyscraper was designed by architectural firm Foster and Partners, and even before it was completed, Londoners dubbed it the 'Gherkin,' named for its distinctive shape. Rather than appearing at odds with its historic surroundings, the Gherkin sits well among them, and its unique, bold and energy-efficient design has won it many awards. Today, it houses a flourishing community, rightfully earning its reputation as 'the most civilized skyscraper in the world.'
5. Port House, Antwerp, Belgium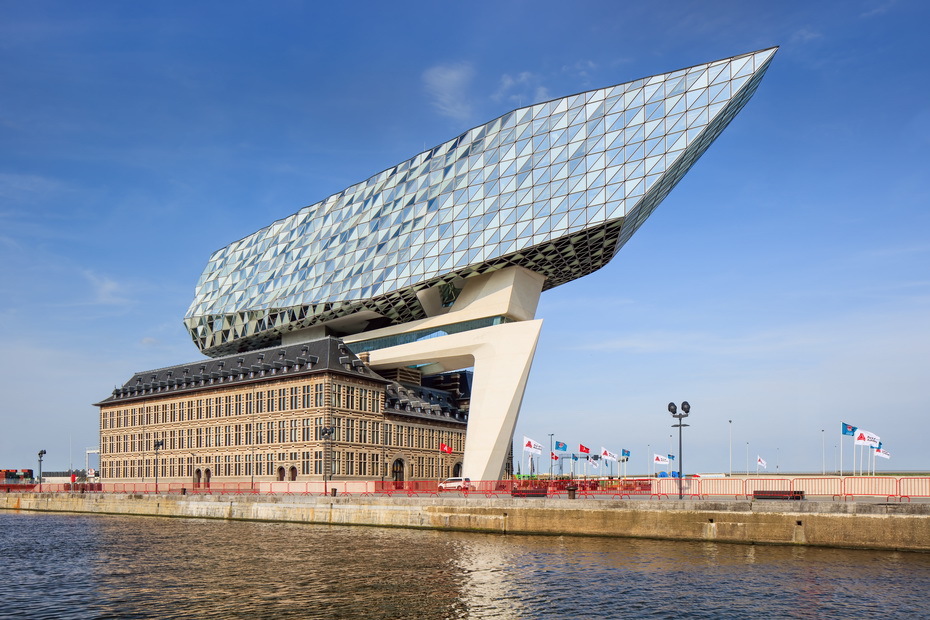 This eye-catching glass addition to a disused fire station in the Antwerp docks is the brainchild of legendary architect Zaha Hadid, and one of her firm's most ambitious designs.  It became the home of Antwerp's new Port Authority, and consists of a glazed extension supported asymmetrically by three concrete pillars. More than just a striking design, the structure has breathed new life into an abandoned building which now houses 500 staff and comprises a highly sustainable and future-proof workplace.
6. Flame Towers, Baku, Azerbaijan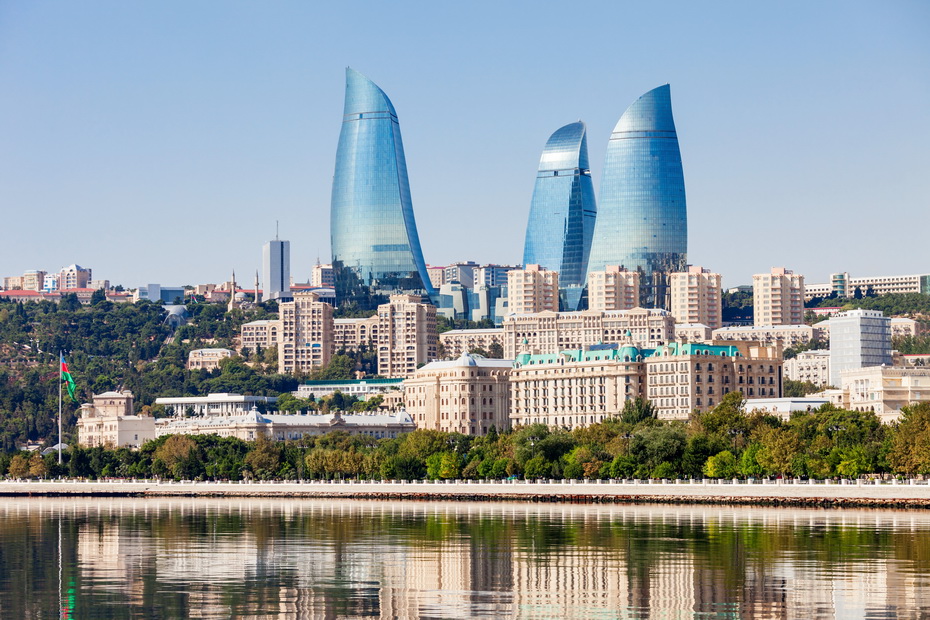 The Flame Towers are a prominent new addition to the historic skyline of Baku. Rather than look out of place among the more traditional architecture, the towers, designed by architecture and engineering firm HOK International, pay deep homage to Azerbaijan's ancient history of fire worshipping. The flame-shaped towers thus act as an eternal flame for modern Baku, while still promoting its historic identity. The towers were so impressive that they were featured in the documentary television series 'Extreme Engineering,' and have since been hailed as the catalyst for positioning Baku as an outward-looking, high-tech city.
7. Gasometer City, Vienna, Austria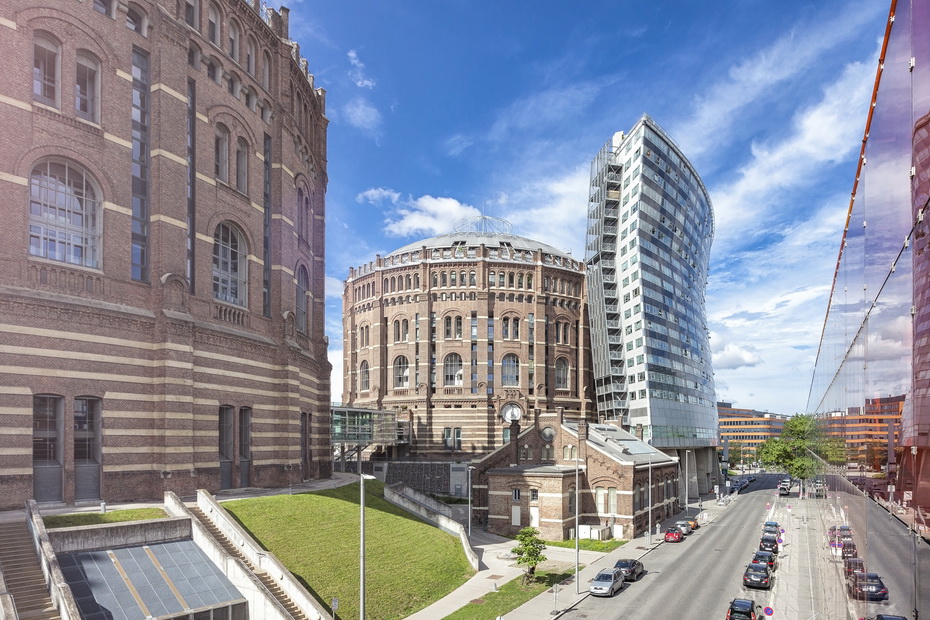 The Vienna Gasometers are one of the most imaginative conversions of a historic industrial complex into a thriving community of apartments, offices, cinemas and shops. These four gigantic brick towers are 113 years old, and considered to be protected monuments in Vienna.
A group of four architects, both international and local, were each assigned one of the four towers, and tasked with bringing them into the 21st century. The most striking of the four is perhaps Gasometer B, designed by Coop Himmelb(l)au, a curved 22-storey building attached to the gasometer, creating a remarkable contrast with the container's circular shape. To this day, Gasometer City is essentially a city within a city, and its residents enjoy a true sense of community.
8. Plaza Sotomayor, Valparaiso, Chile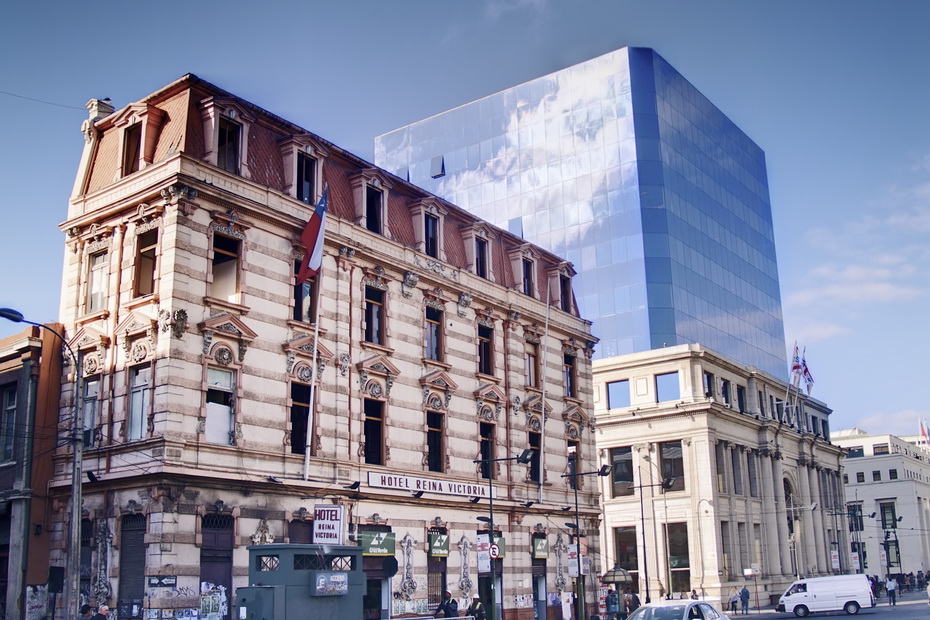 The headquarters of Compañía Sudamericana de Vapores (CSAV), a Chilean shipping company, stands tall in Plaza Sotomayor in Valparaiso, Chile. A true architectural marvel, it was created when the building which housed the South American Vapor Company in 1876 was completely gutted, and a new glass structure erected within the outer walls that were left standing. The original building's Ionic columns and classic façade remain, complementing the surrounding traditional architecture. Rising above however is the modern high-rise covered in blue glass cladding. Rather that appearing out of place and garish, the new addition blends in seamlessly with the blue sky and nearby sea reflected in its glass panes, offering a dash of modernity to the area while still respecting its historic past.

Old and modern architecture can certainly coexist harmoniously, whether this means an update to an existing building, a new tower that respects it surroundings, or even a complete renovation of a timeworn structure. Every new addition, when done mindfully and considerately, brings new life to the old, taking it a step further into the future without destroying its history.