A Gateway to the EU: Cyprus Citizenship by Investment
As part of its policies aimed at attracting foreign investors to Cyprus, the Cypriot government has established legislation and financial criteria that enables non-Cypriot high net worth individuals and investors, along with their families, to obtain Cypriot citizenship through naturalization.
What are the advantages of a Cypriot passport?
Cypriot citizenship is, by extension, EU citizenship. The Cyprus citizenship program has proven to be the simplest, most efficient way to acquire a European passport. This means that investors and their families will obtain full EU rights, including the ability to enter, reside, study and work in any country of the European Union. With the approval period sped up to just three months, investors can reap these benefits almost immediately.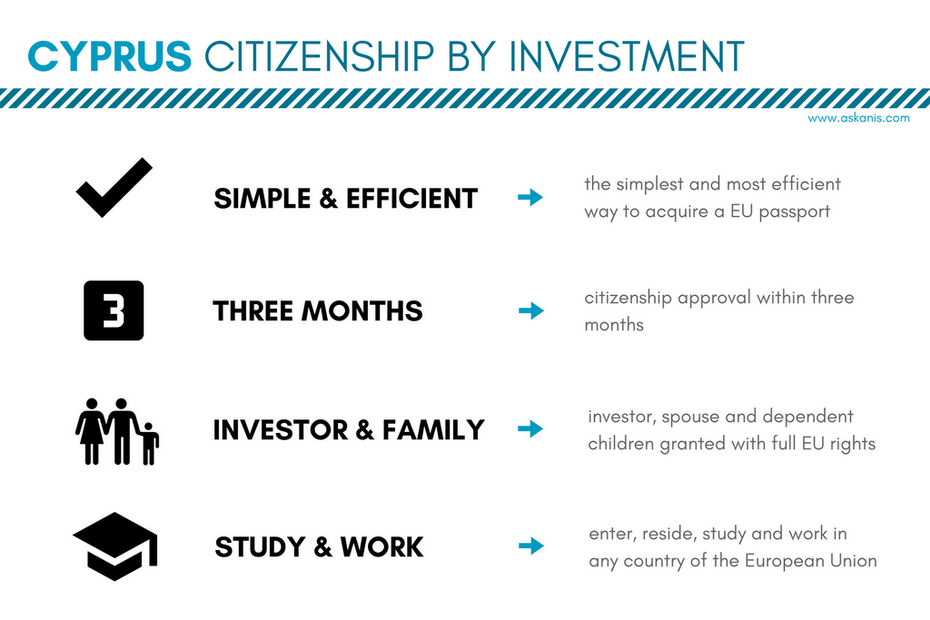 What are the benefits of EU citizenship?
The one fundamental benefit of being a European passport holder is complete freedom of movement. The EU is a vibrant cultural and economic global force, and European passports open doors to a multitude of opportunities to live, work, and travel anywhere in the EU without the need for a visa. This allows for significant expansion of business activities, as investors can enjoy free trade within the EU, business access to 500 million EU citizens, and the option to take advantage of tax regimens most advantageous to their circumstances.  In addition, EU citizens have the right to avail themselves of all rights and privileges of the member country in which they reside, as well as of the EU as a whole. This means benefitting from excellent EU health systems, reputable schools and universities within any EU country, pension programs and many other perks that are all readily available to Cypriot passport holders.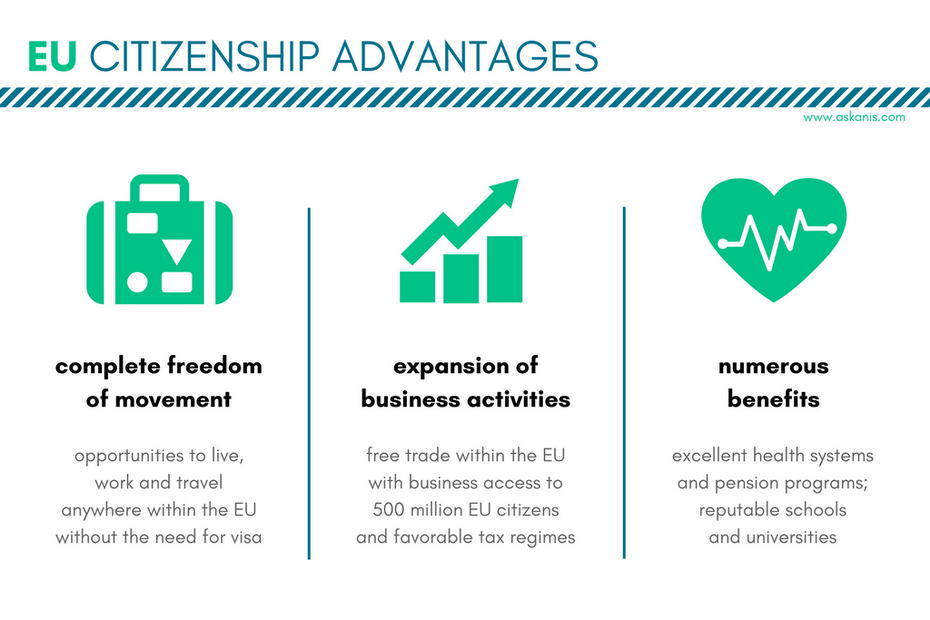 How does it work?
The Cyprus citizenship program is the only direct EU citizenship program with no residency requirement, and approval within 3 months. There are a number of investment options applicants can choose from, with a required investment amount of €2 million. This can be in residential real estate, whether a single property or a portfolio. All investments must be concluded during the three years preceding the date of the application, and said investments must be retained for a period of at least three years from the date of citizenship. After this time, the main investment may be sold, however, the investor must always maintain a property in Cyprus with a value of at least €500,000.
How can Askanis Group help?
Askanis Group has a wide variety of properties that are eligible for investment purposes. Contact us directly for expert assistance in getting started on your Cyprus citizenship by investment, and we will help make sure the entire process runs smoothly and without delays.
Website: www.askanis.com  |  Email: [email protected]  |  Telephone: +357 25 336 171